Sign in for the live event.

"Portals: Collecting and Interpreting Evocative Rocks" Thursday Oct 29th with Dr. Thomas Elias, Founder of the Viewing Stone Association of North America, who will lend one of his Korean viewing stones to the show, Dr. Virginia Moon, Associate Curator of Korean Art at LACMA and two artists in the show: Andy Moerlein and Elisa Pritzker. This talk will focus on the art of stone collecting, both as an historic tradition and as a contemporary practice. Why contemporary artists have translated this aesthetic into new art forms and how each individual rock speaks about a larger landscape will be addressed in this talk.
http://www.koreanculture.org/gallery-korea/2020/10/14/collecting-and-interpreting-evocative-rocks
My beech piece is featured in the Artnet News Editors Picks:
Wednesday, October 21–November 30
Andy Moerlein, Pale Wave (2020). Photo courtesy of the artist.
9. "Interpreting the Natural: Contemporary Visions of Scholars' Rocks" at the Korean Cultural Center, New York
Contemporary artists present work in a wide range of materials, all inspired by Asian scholars' rocks—whether it be the distinct traditions of Korea's Suseok (of Parasite fame), Japan's Suiseki, or China's Gongshi. Expect ceramic sculptures by Laura Cannamela, wood carvings from Andy Moerlein, and even digital explorations by the form Furen Dai, to name just a few artists in this group show curated by Donna Dodson.
Location: Korean Cultural Center New York, 460 Park Avenue 6th Floor, New York
Price: Free with timed appointment

—Tanner West
More about the show:
Interpreting the Natural: Contemporary Visions of Scholars' Rocks
Gallery Korea, Korean Cultural Center, 460 Park Ave 6th Fl NY NY
Exhibition Dates: October 21 - November 30, 2020
Reserve your visit online Tues, Wed, Thurs 10:30a-4p


Online Conversation Series: All events are free and open to the public.
Visit www.koreanculture.org for more info.
October 29 (Thurs) @ 5pm "
Portals-
Collecting and Interpreting Evocative Rocks
" with Dr. Thomas Elias, Founder of the Viewing Stone Association of North America, who will lend one of his Korean viewing stones to the show, Dr. Virginia Moon, Associate Curator of Korean Art at LACMA and two artists featured in the show: Andy Moerlein and Elisa Pritzker.
November 10 (Tues) @ 5pm "
Nature's Representation, Interpretation and Enculturation in Viewing Stones"
with Dr. Kevin Greenwood, Joan L. Danforth Curator of Asian Art at the Allen Memorial Art Museum at Oberlin College, Dr. Yao Wu, Jane Chace Carroll Curator of Asian Art at the Smith College Museum of Art, and two artists featured in this show, Laura Cannamela and JooLee Kang.
November 13 (Fri) @ 5pm - "Strange Bedfellows:
How Found Objects, Mineralogy and Ancient Viewing Stones Deliver a Relevant Message
"
with Dr. Kyunghee Pyun, art historian and faculty at the Fashion Institute of Technology (see her recent
interview
about the Suseok in
Parasite
in Artnet), Dr. Aida Yuen Wong, art historian and faculty at Brandeis University, and two artists featured in the show: Furen Dai and Woomin Kim
November 16 (Mon) @ 5pm - "Presentation, Arrangement and Display"
with Special guests: Jan Stuart, Melvin R. Seiden Curator of Chinese Art, National Museum of Asian Art, Craig Yee, Founder of Ink Studio in Beijing, with Susan Meyer, and Christopher Frost, two artists featured in the show.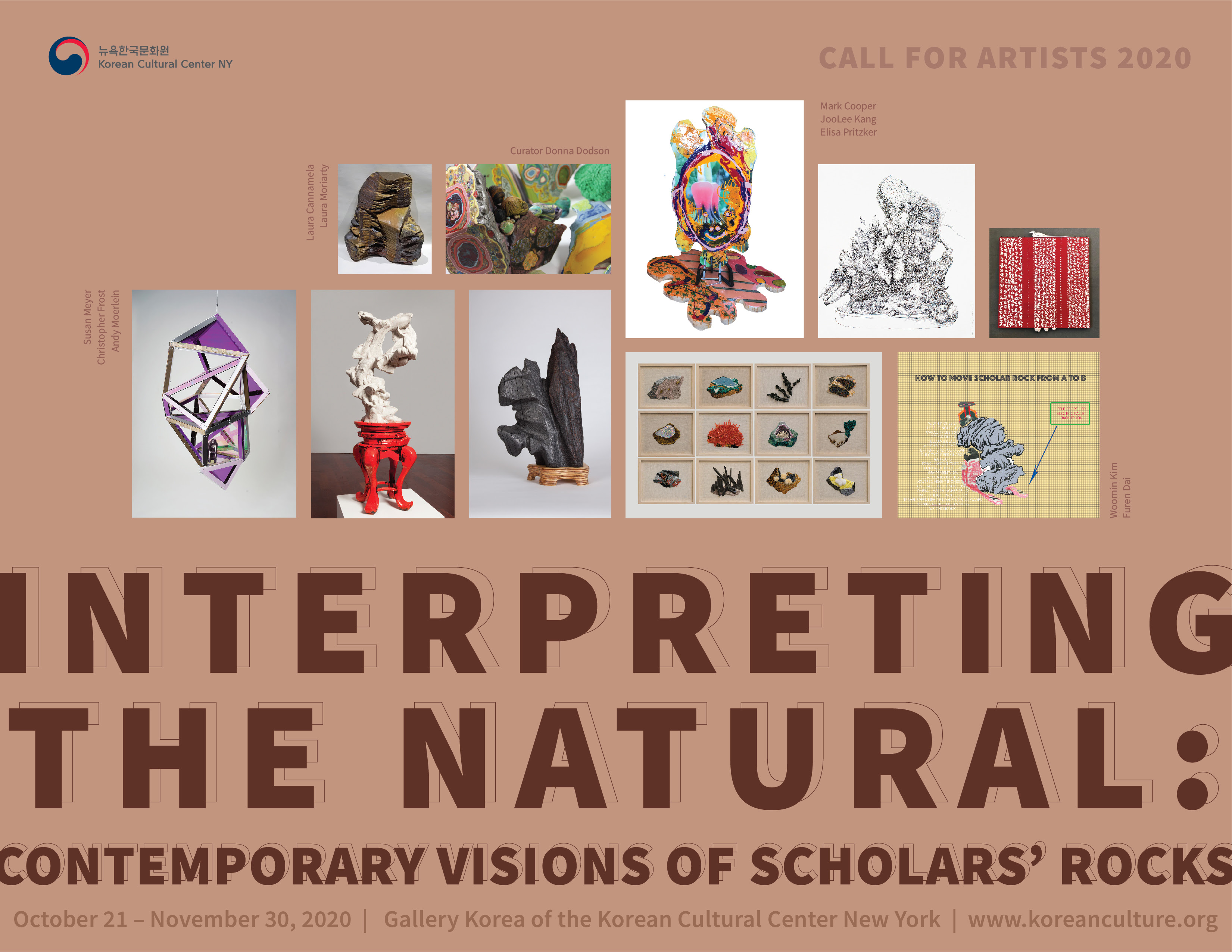 Korean Cultural Center in New York presents Interpreting the Natural: Contemporary Visions of Scholars' Rocks, annual "Call for Artists 2020" group exhibition by Gallery Korea. This year's artists and curators have diverse cultural backgrounds from Korea, China, Japan, Argentina, and the USA. This group show will feature ten artists:Laura Cannamela, Mark Cooper, Furen Dai, Christopher Frost, JooLee Kang, Woomin Kim, Susan Meyer, Andy Moerlein, Laura Moriarty, Elisa Pritzker and curator Donna Dodson.
Interpreting the Natural: Contemporary Visions of Scholars' Rocks shows recent artwork by each artist is shown in dialogue with an authentic Scholar's stone from the Thomas Elias and Hiromi Nakaoji collection and the collection of Kemin Hu.


This contrast of traditional scholars' rocks with contemporary interpretations will create a dynamic that encourages reflection on our enduring relationship with nature. As we confront the current pandemic, and respond to the imbalance challenging our global society, we seek contemporary art that is able make sense of the current time.
Stone collecting is a universal human pastime. Throughout Asia, scholars have cultivated distinct traditions: in Korea, Suseok; in Japan, Suiseki; in China, Gongshi. The most prized "bones of the earth" were created by water or wind carving away the geological structure until only the essence is left behind. These unique stones were understood by Daoist practitioners as icons of harmony with nature. As the stones were passed from generation to generation, they signified an authentic connection to the landscape and an aesthetic reminder of that spiritual connection.


An appreciation of these stones came to represent cultural value for Korean, Chinese and Japanese collectors. With new affluence came increased demand for such ancestral heritage. Merchants would often find or carve natural stones and sell them in the marketplace. Commercial availability enhanced their popularity. With the rise of new wealth in Korea and China in the past 50 years, scholars' rocks have become more sought after. They signify a connection to the ancient past, and they express the collector's prosperity and hopes for the future.
Today, scholars' rocks continue to resonate with viewers. The surge of interest in scholars' rocks or viewing stones in the art world, and in pop culture, such as in the movie Parasite, can be understood as a response to things being out of balance with nature, the environment, and society. The artists in this show are all responding to this moment, where a reverence for rocks and nature is needed, now more than ever.


---
About the Artists
Laura Cannamela received her MFA from Queens College of CUNY before moving to the Hudson Valley area of New York. Her artwork has been featured in numerous exhibitions at galleries around New York and New England. Within the past year, she has shown her artwork at the Hyde Collection in Glens Falls, NY, and at the Samuel Dorsky Museum of Art at SUNY New Paltz. Her ceramic sculpture installation was selected for the Hudson Valley Artists 2017 Purchase Award and has been added into the Dorsky Museum's permanent art collection. She has taught at Queens College of CUNY, the College of St. Rose in Albany, and Sage College of Albany, and currently teaches ceramics and sculpture at Ichabod Crane High School. Laura Cannamela reflects on the interconnectivity of the Hudson river's water and landscape. Her works are inspired by the observations of creek waters and the idea of Heraclitus."You never step into the same river twice, for it is not the same river and you are not the same person."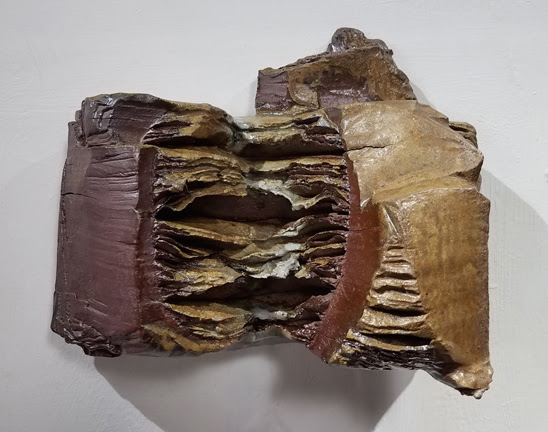 Mark Cooper is an internationally recognized artist known for large-scale and site-specific installations. His professional honors vary from commissions at the Boston Medical Center, to Artist Fellowships through the Massachusetts Cultural Council (2011, 2017), a Gund Travel Grant (Japan and Korea), and an Open Society Fellowship among others. In 2006 he authored Making Art Together through Beacon Press. In 2013, he was a Foster Prize Finalists at the Institute of Contemporary Art (Boston, MA) and included in "New Blue and White" at the Boston MFA. Integral to his art is the idea that the sum of the parts is greater than the individual parts.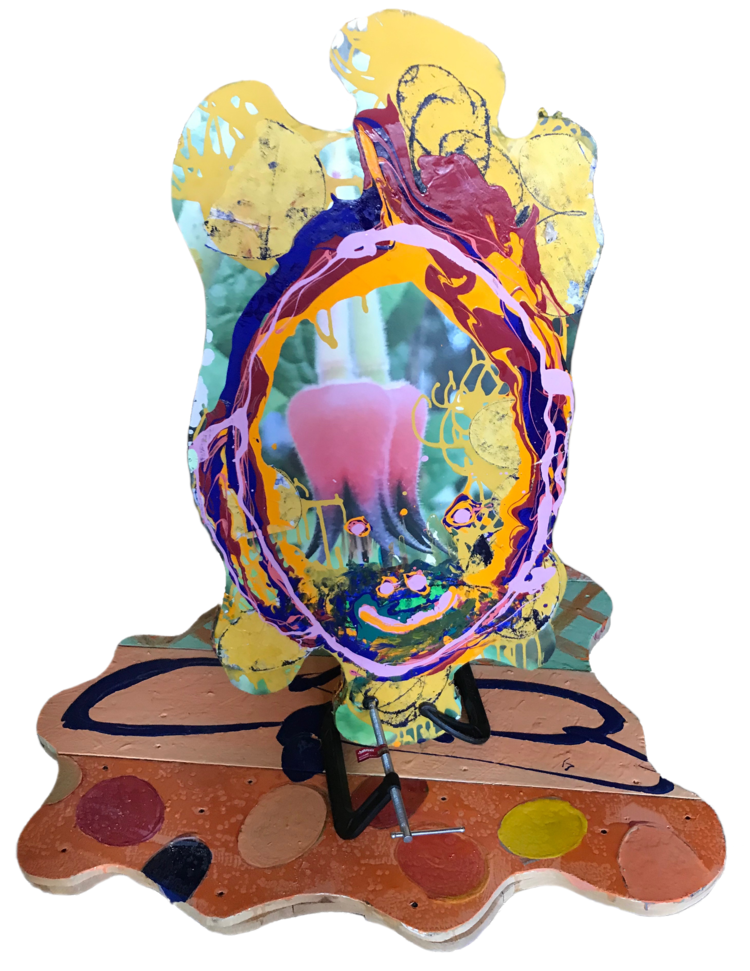 Furen Dai's practice has focused largely on the economy of the cultural industry, and how languages lose function, usage, and history. Dai's hybrid art practice utilizes video, sound, sculpture, painting, and collaboration. Her years as a professional translator and interest in linguistic studies have guided her artistic practice since 2015. Furen Dai has exhibited her work at the National Art Center, Tokyo, and the 13th Athens Digital Arts Festival, Greece. She has participated in residencies, including International Studio and Curatorial Programs, Art OMI, NARS Foundation, and has received public art commissions from The Art Newspaper (2019) and Rose Kennedy Greenway (2020).
Christopher Frost is a sculptor living and working in Somerville, MA. His work has been exhibited and collected in museums and art institutions throughout the New England area. His indoor and outdoor sculpture is part of many private and corporate collections. He began his education at Bates College in Lewiston, Maine and then progressed to the Parsons School of Design, and Paris, France. He received a Master's degree from the School of the Museum of Fine Arts in Boston. Christopher Frost has been creating sculptures based on an exploration of traditional Scholar's Rocks for several years. Frost's pieces emerge from these aesthetics and infuse characteristics of contemporary environments.
JooLee Kang interprets the complicated interaction between humans and nature from various perspectives. Her work asks us to consider the possibility and dignity through drawing and mixed installation. JooLee Kang received her BFA in Painting from Duksung Women's University in Seoul, Korea and her MFA from Tufts University - School of the Museum of Fine Arts in Boston, USA. She had numerous exhibitions including solo exhibitions at Gallery NAGA (USA, 2020, 2017, 2014), Korean Cultural Center in Madrid (Spain, 2018), Gyeonggi Museum of Modern Art (Korea, 2018), Harvard Medical School (USA, 2018), Museum of Art at Univ. of New Hampshire (USA, 2014) and group exhibitions at Amorepacific H.Q. (Korea, 2019), Newport Art Museum (USA, 2019), Taipei Fine Arts Museum (Taiwan, 2017), DMZ Camp Greaves (Korea, 2017), Arko Art Center (Korea, 2016), Jonathan Ferrara Gallery (USA, 2015), Seoul Foundation for Arts and Culture Artist Grant (2018), and Massachusetts Cultural Council Award (2012). She was invited as an Artist-in-Residence at Gyeonggi Creation Center (Korea, 2018), Cheongju Art Studio (Korea, 2017), Willapa Bay AiR (USA, 2015), and Beijing Inside-Out Art Museum (China, 2014).
Woomin Kim reveals what things are made of. Exposing a hidden rawness, She is able to consider the gap between how we know these objects and what they really are. Woomin Kim is a South Korean artist currently based in Queens, NY. Kim had solo shows at Boston Sculptors Gallery (Boston, MA) and Maud Morgan Arts Center (Cambridge, MA) to name a few. She has participated in several residency programs including the Queens Museum Studio Program, Ox-bow School of Art and Studio MASS MoCA. Kim has received fellowships and awards from the Joan Mitchell Foundation and the Korean Cultural Center. Kim was invited as a visiting artist for various institutions including Isabella Stewart Gardner Museum, deCordova Sculpture Park Museum, and Bunker Hill Community College. Her works have been featured in The New York Times and Hyperallergic among others. Kim holds a B.F.A from Seoul National University and received an M.F.A. from the School of the Art Institute of Chicago.
Susan Meyer makes sculptures, installations, and 2-dimensional artworks utilizing hand and digital methods. The works explore the utopian instinct, interweaving landscape, and architecture. Meyer has exhibited throughout the US at venues including the Albany International Airport Gallery; the Hunterdon Art Museum, Clinton, NJ; Markel Fine Arts, New York, NY; the Hyde Collection, Glens Falls, NY; Albany Institute of History and Art; the Museum of Contemporary Art/Denver; Center for Visual Arts in Denver; Boulder Museum of Contemporary Art; Artspace New Haven, CT; and the Islip Art Museum Carriage House, NY. Artist residencies include Sculpture Space, Anderson Ranch Art Center, Ucross, and Pilchuck. Meyer is an Associate Professor of Art at The Center for Art and Design of The College of Saint Rose in Albany, NY.
Andy Moerlein has been an art advocate for the past 30 years. Andy Moerlein is an internationally exhibited sculptor and has been an art advocate for the past 30 years. His art presents a personal reaction to the powerful interaction between psyche and phenomena. He has an extensive resume of public artworks and monumental outdoor sculptures. In October 2020 he completed his second commission for Crystal Park, a private sculpture garden in Holmes NY. His work can be seen at Contemporary Arts International, Acton MA, Verbier 3D Foundation in the Swiss Alps, Haskell Public Gardens, New Bedford MA, Andres Institute, Brookline NH, Fruitlands Museum collection, Harvard MA, and private locations nationally. Moerlein holds a BA from Dartmouth College and an MFA from Cornell University. He lives and works in Maynard MA and Boston MA.
Laura Moriarty's work has been presented in numerous exhibitions, both nationally and internationally since 1992. Her work is held in many permanent collections, including The New York Public Library; the Pacific Grove Museum of Natural History; and the Progressive Art Collection. Laura's honors include an Individual Support Grant from the Adolph & Esther Gottlieb Foundation, a residency at the Baer Art Center in North Iceland, and two Pollock-Krasner Foundation Grants. She is the author of an artist's book, 'Table of Contents', self-published in 2012. Laura Moriarty makes process-driven sculpture and works on paper whose forms, colors, textures, and patterns result from the same processes that shape and reshape the earth.
Elisa Pritzker is an artist and independent curator based in Ulster County, New York. She has exhibited at MoMA, Queens and Dorsky Museums among an innumerable group and solo exhibits. Her art is in the permanent collections from the Dorsky Museum, Jean Cherqui Art Collection, and in Paris, France & New York, Brooklyn Library, Hammond Museum, the Argentine Consulate in NYC, the Wiseman Gallery/Rogue Community College, and the Luz & Alfonso Castillo Foundation. Elisa Pritzker paints the stones as she finds them, Her own hand-painted magic stone installations have analogous virtues with the Scholars Stones. Bringing the past into her current work makes it relevant today.


About the Curator
Donna Dodson is an independent curator, freelance writer, and a visual artist. She is currently a Visiting Scholar at Brandeis University in Waltham, Mass. Donna regularly contributes articles to newspapers, magazines and blogs that demonstrate the economic impact and global reach of the arts sector in Boston and beyond. Donna Dodson's curatorial projects include "Wood as Muse" at the Art Complex Museum in Duxbury, Mass., " Convergence: Boston Sculptors Exhibits on the Christian Science Plaza," in Boston, Mass., and "Connections/Conexiones," at the Nesto Gallery, Milton Academy, in Milton MA. Her exhibitions have been reviewed by the Boston Globe, Sculpture Magazine, and WGBH Boston. Dodson is a graduate of Wellesley College.
About the Korean Cultural Center New York
Inaugurated in 1979, the Korean Cultural Center New York is a branch of the Ministry of Culture, Sports and Tourism (MCST) of the Republic of Korea. Under the authority of the Consulate General, KCCNY works to promote cultural arts exchange and stimulate interest in Korean culture through various opportunities including exhibitions, concerts, film festivals, and educational programs.